What is it about Twitter?
Critics and even happy users focus on the restrictions imposed by 140 characters or less. But it's really the speed, the time, the need to get into the flow seconds faster than the next person.
How else do you explain the DiGiorno pizza tweeters failing to realize that the hashtag #whyistayed was not about spending the night at a friend's or moving back in with mom and dad?
Following Monday's release by TMZ of the Ray Rice video, thousands of domestic abuse survivors swarmed social media, many in defense of Rice's now wife, Janay Palmer. As Adweek reported:
DiGiorno Pizza has become one of the top brands on Twitter thanks to its quick wit and good ear for real-time conversations, but one careless tweet [Monday] night put that reputation at risk.
After a video of Ray Rice punching his then-fiancee Janay Palmer led to his termination from the Baltimore Ravens on Monday, thousands of women took to Twitter to discuss their physically and emotionally tortuous experiences in abusive relationships. They used the #WhyIStayed hashtag to fight the victim-blaming attitude of Palmer's critics, who had questioned why she would marry a man who knocked her unconscious.
Jumping onto the popular hashtag, DiGiorno clearly didn't look into its context before tweeting, "#whyistayed You had pizza."
The backlash was swift, and within minutes the tweet had been deleted. The brand then posted the apology above, noting: "A million apologies. Did not read what the hashtag was about before posting."
It's about speed. No one would have put that on a billboard, or in a print ad, or even in a video or on TV. That takes too long and brings with it appropriate checks and balances.
Twitter and tweeters walk a tightrope without a net.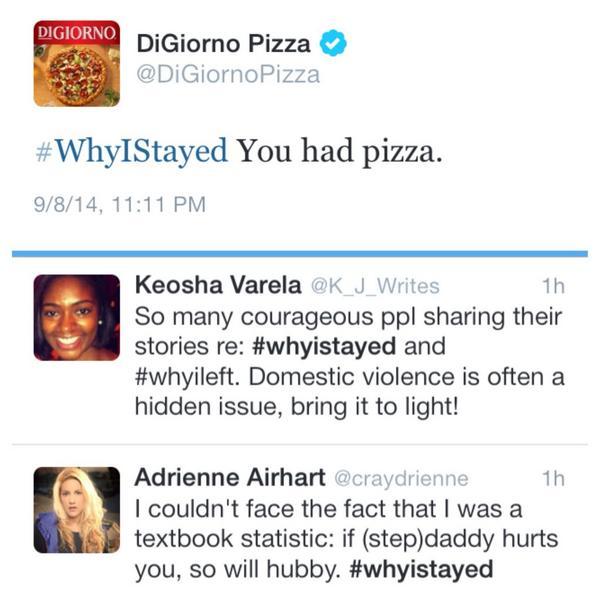 This small act of carelessness, especially because apology was swift and sincere, probably won't hurt the DiGiorno brand. But there might be a couple of previously smart and effective social media managers looking for work elsewhere.
This reinforces what's been said repeatedly in recent years. There used to be a weekly news cycle [Life, Look Time, Newsweek, U.S. News]; then it became daily, the networks and newspapers; then it became 24-hour, seven days a week, with CNN, Fox, and ESPN; today it's minute by minute, as Facebook and YouTube posts merge into the Twitter stream.
Ask, before you hit that little blue box with Tweet inside, whether that's really what you want to send out.
The content of this blog is about crisis management and mismanagement in a digital age. It originates with Steve Bell, who spent 30 years as a journalist for the Associated Press and in four top editor positions at The Buffalo News. He is now Partner/Director of Public Affairs and Crisis and Reputation Management at Eric Mower + Associates, one of the nation's largest independent advertising, integrated marketing and public relations agencies, with seven offices in the East. Learn more about EMA at mowerpr.com/crisisready. Steve's blog is based on his own opinions and does not represent the views or positions of Eric Mower + Associates.