Most of the dust settled after Serena Williams took on the tennis establishment in the U.S. Open final last Saturday, but the deep crisis in professional tennis will linger for months.
What's left is the mess the mandarins of tennis face. Everyone feels bad for winner Naomi Osaka, whose dream shattered on the wrinkled brows of the rigid tennis establishment.
Here's the bottom line: Whether you think Williams was correct or whether you side with the decisions of match umpire Carlos Ramos, [above] tennis faces a crisis.
Personally, I found Ramos' decisions arbitrary, excessive and over-reactive. He inserted himself into the final in a way that steered its outcome. Was he technically correct? Perhaps. But he brought the mentality used in a forgettable first-round match to what should have been a triumphant final, whichever way it went.
Let the players play has been a big-game mantra in all sports for decades. Ramos' actions reeked of pique, pettiness, over-reaction and, dare I say it, male ego.
Could Williams have handled the situation differently? Maybe. But the world can't have Serena Williams two ways. Tennis cannot benefit from her success — and the millions in ad revenue she generates for tennis — and then condemn her for her zeal, emotions and competitive fire when she's clearly treated differently than men, and in a U.S. Open final, no less.
White America, white tennis, still loves Chrissy Evert and Bjorn Borg. Silent assassins, unruffled, stoic. Add the great Arthur Ashe and these are model players. And, it appears, Osaka follows in their mode. That's all laudable. But Williams — like John McEnroe — is different, and until tennis really puts itself in the Open Era and accepts those differences, this crisis will persist.
If you heard Williams, her complaints went beyond that match on that day. She's felt unfairly treated for years. Is that because she and her sister Venus rose from Compton, not Greenwich or Newport or Grosse Pointe or West Palm? How often have we seen, in sports and in life, the establishment treating people of color, and women of color, differently. Oh we love your music, your batting average, your touchdown passes, but you can't stay in our hotel, or drink from our water fountains.
Why was a man even umpiring that match? I've umpired some minor tennis matches. It's a tough job. But it's much less of a responsibility — it's become almost symbolic — now that the line calls are affirmed or reversed by computer simulation. Maybe this veteran, "Gold Star" umpire felt the need to reassert the authority umpires lost 10 years ago.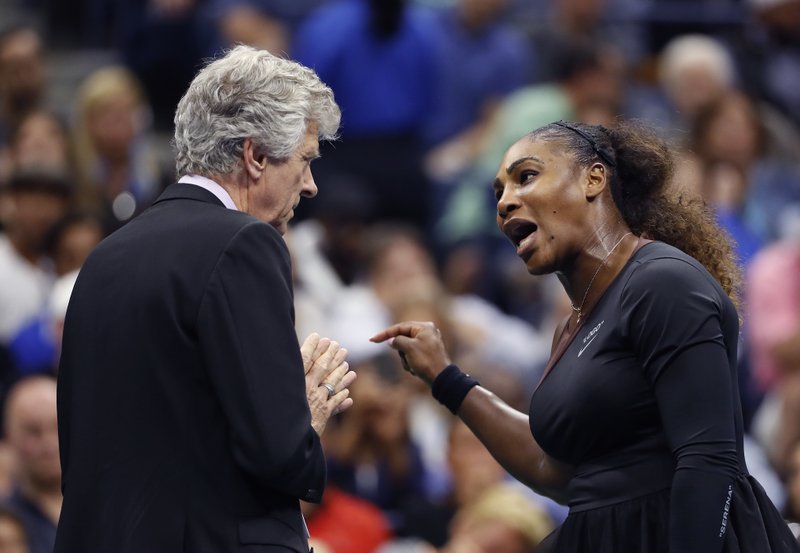 Can anyone imagine an NFL referee throwing Tom Brady out of a Super Bowl for swearing? Or sending LeBron James to the lockeroom in an NBA final with two technicals for arguing a foul call? Never. Would. Happen.
And that's why tennis has a crisis. It wants what Serena brings — fire, success, color, personality, leadership, championships, revenue — to tennis. But it can't get over its rules born in the era of country club gentility and all-white power. Tennis still treats women as lesser achievers, despite being one of the few sports where women and men play close to par.
Two fantastically talented women of color met in an epic tennis match last Saturday and the tennis establishment was totally unprepared and so unaware of its own rigidity and failed traditions that it struggled to even understand the outrage when Williams unmasked those failures.
Like too many police departments, too many hiring authorities, too many power centers, the tennis tour needs to look deeply into its organization, into its heart and change. Or, die.
Tennis needs to respond affirmatively. Recruit more people of color to decision-making roles. Change the rules officials follow to keep up with the times. In most matches the umpire is just a glorified score keeper. If I were advising the Women's Tennis Association, I'd create a task force of key women leaders in the sport and reform it.
Billie Jean King demanded change 50 years ago. Time to change again.